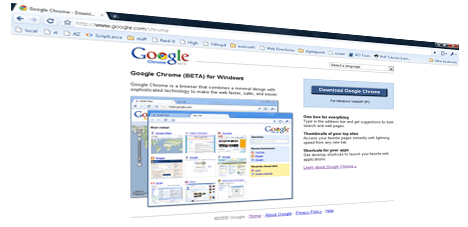 It`s been four days since Google Chrome was launched and we all had plenty of time to experiment.
When I installed chrome I also got IE8 and I must say that I was pleasantly impressed by the new IE, considering its evolution.
As for chrome, what can I say, even if it`s still in beta, it`s quite fast and you already know about all the features implemented.
One thing I noticed is that IE8 also treats each tab as a different process so chrome is not unique in this matter, but this leaves Firefox 3 behind in efficiency.
So far, chrome seems to be the most promising platform for the future web and if Goole succeds in forcing the other browsers to evolve, my work could just get easier (year right, like that`s ever going to happen 🙂 )
As a developer, I can`t switch to one or another browser, but I`m forced to work with as many as I can. So I`m verry happy with Firefox 3, Google Chrome and IE8.
I use Windows Vista 64 bit as OS and so far IE8 is the only one with a 64 bit version, but chrome still works faster even if it`s a 32 bit app. Anyway, all three are good and all three lack in some areas.
Chrome and IE8 may have a better page load time and application execution time, but Firefox3 is still the leader. It has a lot of features and so far it is the most standards-compliant browser out there, even if it uses more memory and it may crash from time to time, my love for it will never die, just like Windows 🙂
I have no doubt that Chrome will catch up fast, since it is made from the best components from all the other browsers and the features implemented into it are found across four other major browsers.
I have no doubt that Chrome will be, one of the best browsers in a matter of months.
Google might just rule the world someday, if it doesn`t already and we just don`t know it yet 🙂
Google Chrome, long way from being perfect